The Code of Professional Conduct, the Codes of ethics and the Standards of Practice are similar in that they all pertain to governance and regulation of member conduct, while having a slightly different viewpoint in their purpose. Together, the three documents provide a framework for legal and professional accountability for exemplary and responsible practice in all clinical, management, education, and research domains.
The Standards of practice are detailed concepts used to determine what a medical laboratory professional should or should not do. The standards provide a guide to the knowledge, skills, judgment, and attitudes that are needed to demonstrate exemplary competence.
The Code of Professional Conduct describes the principles, values, standards, and rules of behaviour that guide the decisions and actions of a professional. It is the minimal set of standards for practice that is expected to be upheld within and outside of the professional domain to ensure 'good standing' in the profession.
The Code of Ethics includes principles based on an organization's core values and the standards to which the medical laboratory profession will be held. The Code of Ethics statement provides practical ethical guidance on our ethical values and commitment to providing direct and indirect patient care, working collaboratively with others, the maintenance of our professional identity and our commitment to self-improvement and the improvement of the future workforce.
The Impact of Conflict:
Lost productivity
Poor relationships
Mental health problems
Sabotage
Litigation
Workplace violence and bullying
Absenteeism and / or presenteeism
Employee loss and turnover
Customer loss and impact on sales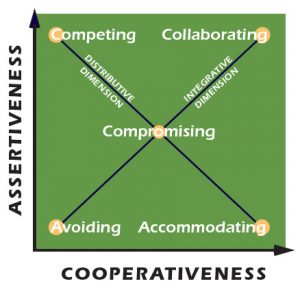 There may be a time when someone, or even yourself, may question your ability to uphold the details of these documents.  What should you do?
You should start by understanding the general steps behind conflict resolution as defined here.
Get your facts straight! Refresh yourself with the Standards of Practice, Code of Professional Conduct and Code of Ethics to help you identify the core of the issue.
You will also want to seek your local policies and procedures to give you an idea of the resolution process and the requirements of all relevant parties. It is possible that your organization does not have well-documented pathways that are available to you. Firstly, starting with an open dialogue about your concerns with management is a good step.
Understand what your conflict style is before you have another conflict! Take the Conflict Resolution Questionnaire 
While you are at it, why don't you find out more about your personality type too
Start a conversation. This toolkit will provide you with some guidance on how to have a difficult conversation and some useful phrases and words to support your description of the situation. However, none of this information is valuable unless you start the conversation with the right people!
See this power point presentation for more information on conflict resolution!
Check out some of the myths associated with conflict resolution
What does the conflict resolution process look like within an organization? See Hamilton Health Science's resolution pathway below as an example of what one looks like.