When searching for information on mental wellbeing, mental health or mental illness, you will frequently find the terms are used interchangeably but you should be aware that they represent different concepts that may or may not overlap.
Mental Wellbeing
Mental Health
Mental Illness
Mental welling is comprised of domains that act as mental health indicators, including:

Emotional well-being such as perceived life satisfaction, happiness, cheerfulness, peacefulness.
Psychological well-being such as self-acceptance, personal growth including openness to new experiences, optimism, hopefulness, purpose in life, control of one's environment, spirituality, self-direction, and positive relationships.

"A state of well-being in which every individual realizes his or her own potential, can cope with the normal stresses of life, can work productively and fruitfully, and is able to make a contribution to her or his community." Mental Health is the focus of the current Toolkit.

The phrase 'mental health problems and illnesses' represents "a range of behaviours, thoughts and emotions that can result in some level of distress or impairment in areas such as school, work, social and family interactions, and the ability to live independently."

"A recognized, medically diagnosable illness that results in the significant impairment of an individual's cognitive, affective or relational abilities. Mental disorders result from biological, developmental and/or psychosocial factors and can be managed using approaches comparable to those applied to physical disease (i.e., prevention, diagnosis, treatment and rehabilitation)."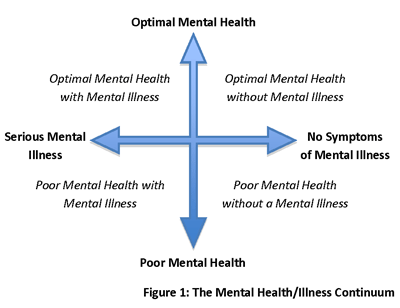 Mental health and mental illness are not mutually exclusive concepts. The Mental Health/Illness Continuum demonstrates this (Figure 1), suggesting that they are fluid with a person being able to move from one quadrant to another next depending on how life is treating them and how they are reacting to it at that moment.
Let's start to think about our own mental health and define it. What quadrant do you feel best represents your current state of mental health and mental illness?
Are you still not sure what your mental health status is? The Canadian Mental Health Association believes that there are some characteristics we can identify in ourselves and determine if they need improvement to build our mental health buffer, including: ability to enjoy life, resilience, your ability to balance, self-actualization, and flexibility. Take the Mental Health Meter to gauge your level of mental health and determine areas you may be able to target for improvement!